Welcome to The Rifle Volunteers, a traditional Real Ale pub where good beer and good conversation take centre stage. You will not find televisions or juke boxes within these ragstone walls, just a warm welcome, superbly kept beer and a relaxed jovial atmosphere!
A Goachers Ale house we are proud to work in colabaration with this local brewery and exclusively stock their beers!
Regular features at the pumps are:
Fine Light (3.7% abv)
Real Mild (3.4% abv)
Gold Star (5.1% abv)
Imperial Stout (4.5% abv)
Best Dark (4.1% abv) on a seasonal rotation.
You can read more about Goachers brewery and the beers we stock on The Beer page.
We also enjoy the Goachers Green Hop at the end of September and Old 1066 Ale in Winter. Both ales are only brewed in limited supply so keep an eye on our Facebook for news on their arrival.
We serve exceptional local Cider produced by Turners of Marden using only Kentish apples.
On offer are :
The Russet (8.1% abv),
Medium (5.1% abv)
There are more unusual fruit ciders (Rhubarb, Cherry, Pear and Apple Pie) dependent on the season.
In addition to the above there are a selection of wines, spirits and soft drinks.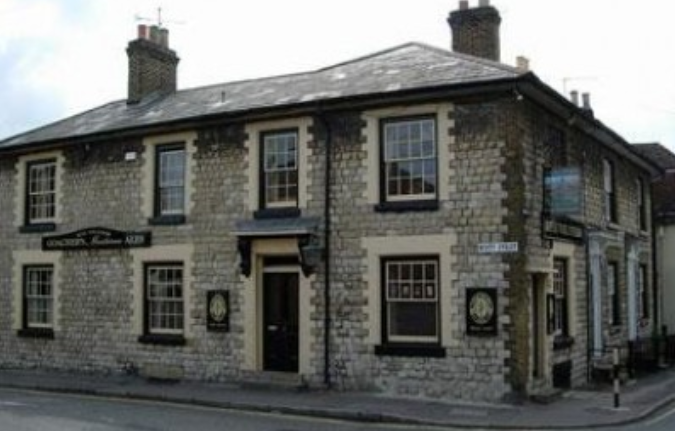 When we are allowed to open again:
The Rifle Volunteers opening times are:
Monday: 6pm - 11pm
Tuesday: 12pm - 3pm / 6pm -11pm
Wednesday: 12pm - 3pm / 6pm - 11pm
Thursday: 12pm - 3pm / 6pm - 11pm
Friday: 12pm - 11pm
Saturday: 12pm - 11pm
Sunday: 12pm - 6pm
The Rifle Volunteers Takeaway

Service
Please note a change to time
Local delivery service available
Firstly a HUGE thank you to all of our customers, whether you're a die hard regular or someone new to the Rifle Volunteers, we really appreciate your support during these difficult times.
Now that two weeks have passed we have had time to see what works for our customers and our family for deliveries and collections. We have therefore made some changes to the system:
Local deliveries:
Sunday - Thursday 3pm - 5pm
Friday - Saturday 3pm - 6pm
Please have your orders in by 2.30 pm wherever possible so that we can plan the route before we leave.
Collection:
Everyday 12 pm - 2pm and 5 pm - 9 pm
Wherever possible please try to call ahead letting us know what you would like and what time you will be collecting. We can then start to pour your beer/cider 10 minutes before you arrive so that it is ready for you to takeaway.
Please call or text on the numbers below.
Beers and Cider that are available.
Goachers Ale
Real Mild 3.4% ABV £2.90
Fine Light 3.7% ABV £3.00
Imperial Stout 4.5% ABV £3.30
Gold Star 5.1% ABV £3.40
Turners Cider
Apple Pie 4% ABV £3.50
Medium 5% ABV £3.50
Russet 8% ABV £3.50
Call 01622 750540 or text 07824 377223 to order for collection or LOCAL delivery.